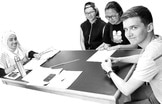 One-on-one tutoring sessions with qualified tutors are available for students, in a variety of subjects including Math, Science, English, Arts, Social Science & Humanities, Business, Economics and Computers. We provide students with customized lesson plans which are highly effective in upgrading students' marks and/or fast tracking in preparation for college or university.



Math and Physics Tutoring G10 up to 1st year University

Instructor: K Y Tang, Bachelor's degree from Univ. of Toronto, over 10 years teaching and tutoring experience in famous Canadian Tutoring center and private schools, familiar with Ontario curriculum; able to tutor up to first year Univ.



Instructor: Tara Mcveigh-Cheon, educated in British Columbia (Simon Fraser University), Canada, currently teaching mathematics in Toronto. Previous years she taught in international schools – S. Korea, U.K., and Switzerland. Having taught young people from diverse cultural backgrounds for years, she is aware of their language and cultural challenges and explores different ways of enhancing math skills for them. It is her objective to motivate and to inspire students for learning, to enhance personal academic levels they did not believe possible, and to find fulfillment by providing exemplary class sessions. Tara has some fluency in French.



English Tutoring G9-12
Instructor: Evgeni Mautossov, Ontario Certified Teacher, 3 experienced in English Tutoring and teaching ESL and ENG courses, academic writing.



AP ECONOMICS
Instructor: Brian Mcveigh-Cheon, as a Canadian teacher, born and partially educated in Ireland, he taught IB Economics at Institut Montana, Zug, Switzerland. Prior to this Swiss appointment he taught economics in Singapore, Hong Kong, U.K.,(London) and at the Toronto French School and Upper Canada College.


---