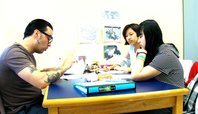 ESL Courses Introduction

The four language skills - listening, speaking, reading and writing - are integrated. Our ESL Courses include elements of contextual grammar, active vocabulary building, paragraph writing, face-to-face communication, group discussions, public speaking, word games, pronunciation, and question-answer sessions.

English Reading (G3-G6, G7-9, G10-12)
CODE: ENGR1,ENGR2,ENGR3

this course will focus on reading strategies. Emphasis will be on vocabulary growth and comprehension and expression of the main idea. Students will be taught to master basic methods of study reading, average reading, skimming and scanning to get rid of some bad reading habits.

For Grade 7+ Students, this reading course will continue to strengthen basic skills of vocabulary development and comprehension with a variety of written material of gradually increasing difficulty. The objective is to progress from mechanical to more meaningful reading.

This is a reading skills course for G12 intend to prepare the ESL student for University materials. The focus will be on improving comprehension and reading rate, and on strengthening reading vocabulary. As well, study skills will be introduced and practiced.


English Writing (G3-G6, G7-9, G10-12)
CODE: ENGW1,ENGW2,ENGW3

This course will focus on writing strategies. Emphasis will be on development of sentence structure and sentence variety to the paragraph level. Students will also be introduced to the paragraph form, including expression of the main idea in topic sentences.

For G7-9 ESL students, composition will be introduced, with a focus on recognizing and practicing grammatical structures and sentence patterns, within the familiar thematic context of shared personal and cultural experience. Pre-writing and revision strategies will be presented.

Essay Writing will be introduced for G10-12 students. For these students at this level, there is a focus on academic paragraph writing. Various forms and purposes for paragraph writing will be analyzed and practiced. Sentence skills will also be reviewed from time to time.

English Public Speaking (G3-G6)
CODE: ENGS1

Public speaking and expressive speech is a very important part of our English curriculum. The children are encouraged to read aloud, write and recite poetry and make oral presentations. Through listening comprehension and oral performances, students will practice their communication skills, and learn to comprehend the main ideas in short passages. Students also practice listening for specific detail as well as engage in short conversations and report personal information and express opinions. Interesting topics will be discussed, such as how to manage public speaking anxiety, present students themselves with confidence, and connect with audience through effective and clear speech. Leadership skills are also cultivated in this friendly and fun class.








---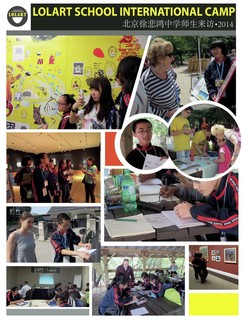 LOLART International Camp

offers a great opportunity to study English in an English speaking environment. Our program is designed to provide students with grammar and vocabulary, and most importantly with opportunities to immediately use their new knowledge in an English environment.

A typical day at the camp can include grammar and vocabulary instruction in the morning, followed by a treasure hunt activity at the ROM (Royal Ontario Museum) or another location. This activity provides students with an opportunity to use English naturally and practice learned material in a real life environment – all while having fun!

---